Thessia Harbour Bridge
Thessia Harbour Bridge
Thessia Megamodal Bridge MT.xml
Download
By Teddy Radko, on 20 Jul 2023, last updated 20 Jul 2023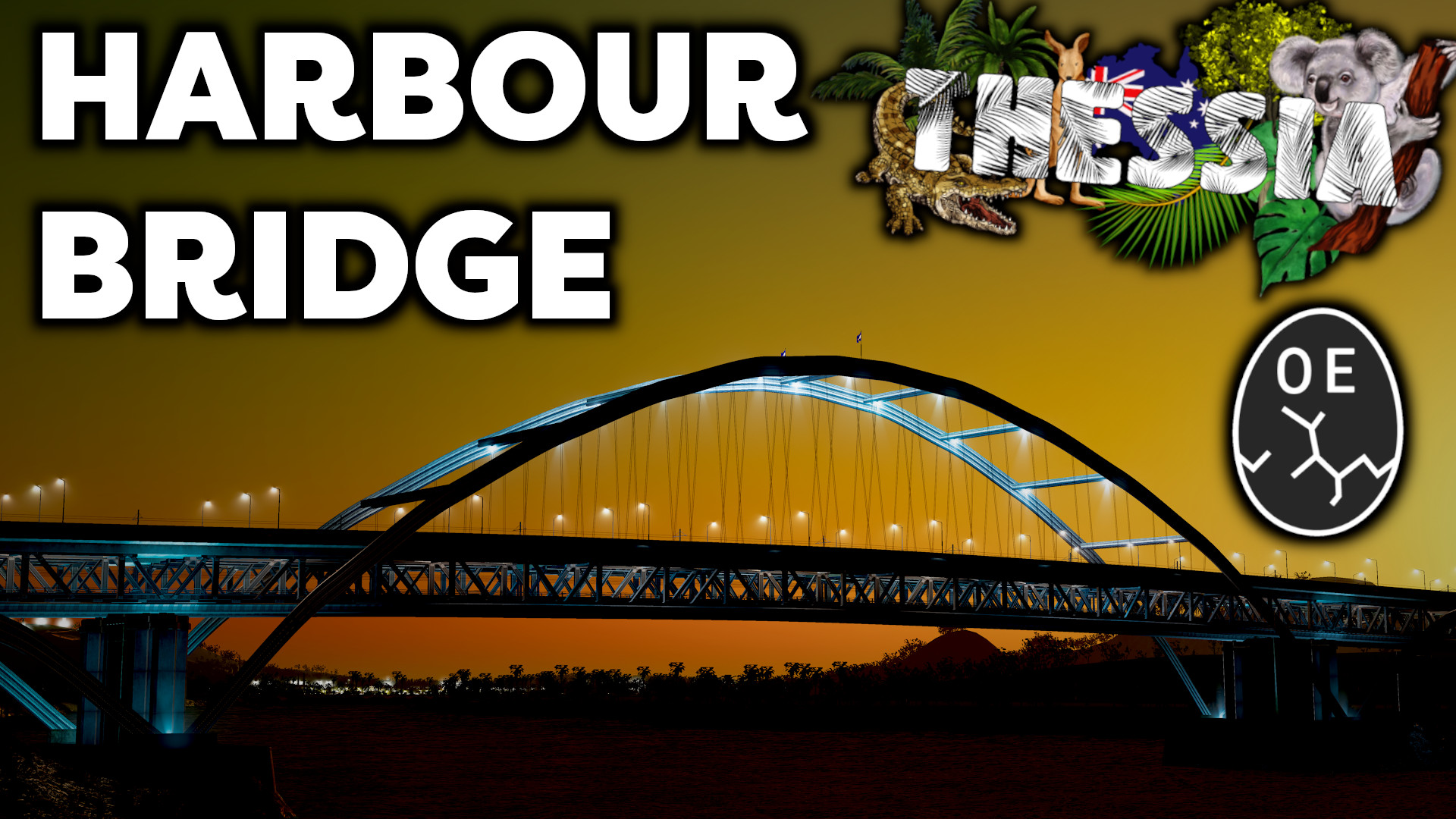 Made for Episode 17 of Overcharged Egg's Australian inspired Thessia YouTube video series. The video, where I show how I built this bridge, is available here: https://www.youtube.com/watch?v=7P4smbtBvRM.

You WILL NEED MASS TRANSIT DLC for this bridge. It is needed for the roadway, monorail tracks, and cable car tracks. It is not feasible to make a version of this bridge without requiring that DLC. No mods are needed tho. When plopping this bridge down using moveit import function there will be alot of extra pillars everywhere. This is normal. Go through and select and delete these with the moveit marque tool set to buildings only. Be careful to not delete any of the intended pillars near the ends of the main span.

The upper deck holds 4 lanes of highway (2 in each direciton) and a modular middle roadway piece. You can easily upgrade the middle road to fit whatever transit needs you prefer. By default I beleive I went with the bus highway road for the export. The lower deck holds 4 metro tracks and 4 rail tracks. This export does not include floodlight or flag props. My main inspirations were the Sydney Harbour Bridge and some cool looking bridges in China that I forgot the name of.

Enjoy!
Area

Extra-Small

(

0.100479

km²)
Height

Steep

(

132.500024

m)
Buildings

20
Props

0
Trees

0
Segments

225
Required DLC

Mass Transit
Base Game and DLC

Monorail Oneway Track

(

138

uses)

CableCar Path

(

34

uses)

Train Track Bridge

(

12

uses)

Two Lane Highway Elevated

(

12

uses)

Metro Track Bridge 01

(

12

uses)

Monorail Track - No Pylons

(

9

uses)

Overground Metro Bridge Pillar 01

(

8

uses)

RailwayBridgePillar

(

8

uses)

Twoway Bus Only Expressway Elevated

(

6

uses)

HighwayBridgePillar

(

4

uses)

Flood Wall

(

2

uses)