Sydney Harbour Bridge
Sydney Harbour Bridge
Sydney Harbour Bridge MT IND AD.xml
Download
By Teddy Radko, on 13 Apr 2021, last updated 20 Jul 2023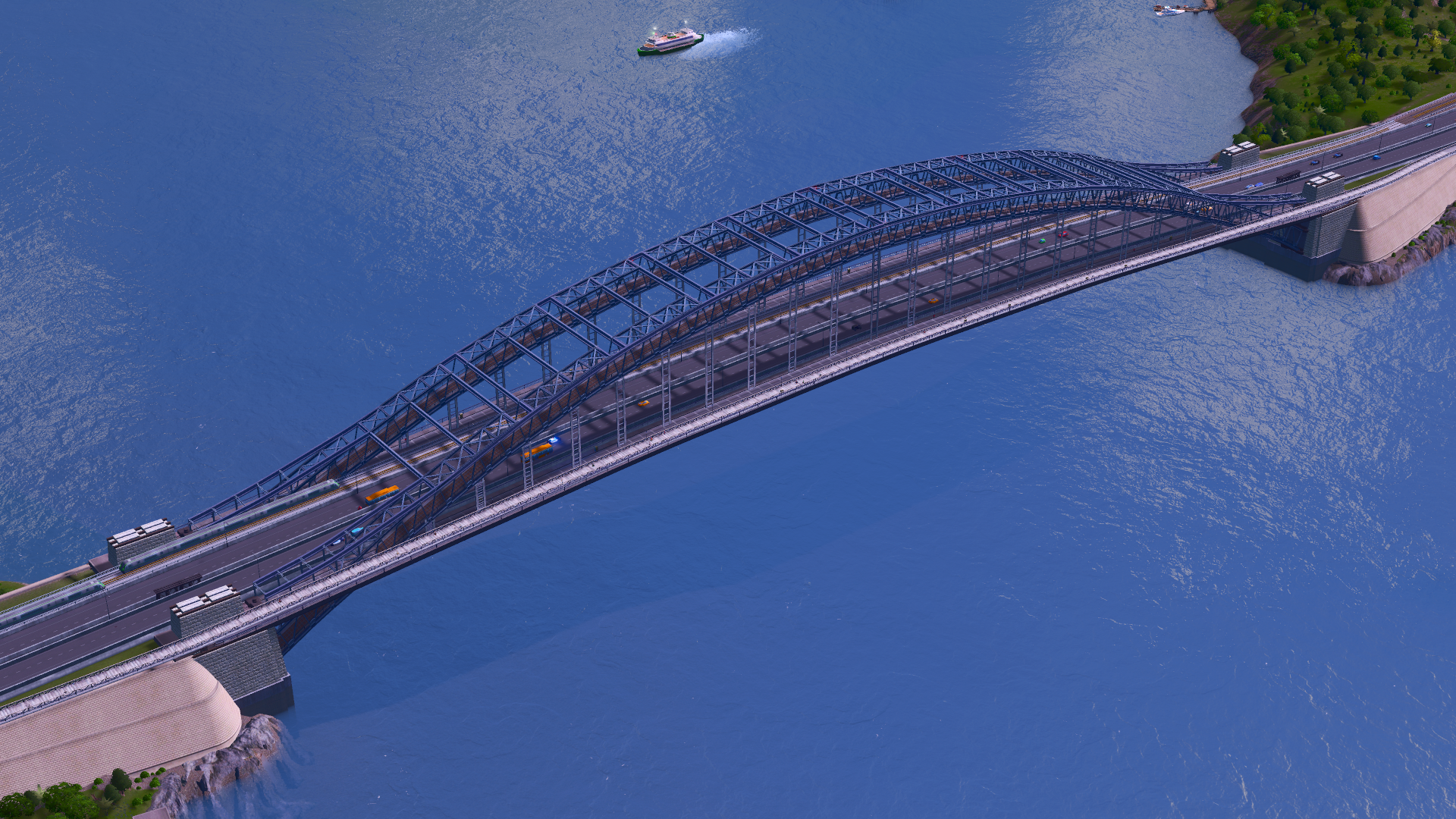 IMPORTANT INSTRUCTIONS. PLEASE READ ALL.
So this is the current state of my vanilla asset Sydney Harbour Bridge lookalike, made infamous from my incessant spamming of Newport screenshots to the r/citiesskylines subreddit. The design dates back to early 2020 but I've continuously updated and modified it to this day. Therefore there are quite a few imperfections here and there but all things considered I'm still super proud of this one.
This bridge is made up of lots of networks, props, pillars and even decals so it may feel a bit intimidating trying to place it down for the first time but its really not that hard. I'll try to provide a simple guide here. First you need to make sure you have the REQUIRED DLCs which are MASS TRANSIT, INDUSTRIES, and AFTER DARK. Mass Transit and Industries are NOT OPTIONAL since networks from these were used. If you try to import without these DLCs weird things may happen so PLEASE DON'T TRY THIS.
After placing the xml file in your moveit exports folder and loading into your game go to the moveit UI and select import and find the Sydney Harbour Bridge MT IND AD item in the list. Select import and then place it down where you want it. It may take a while before it all imports due to the large number of parts so be patient.
First thing you will notice is a massive mess of pillars everywhere. These are automatically spawned at nodes when imported. To remove these you can use the moveit marque selection tool and filters to select only buildings (as pillars most often are classified as such). Drag select all pillars between the two bridge foundations but make sure not to select any parts of the foundations themselves which also contain pillars. After this step you can either try deleting the pillars or moving them somewhere on the map where you can hide them underground. The reason for hiding them instead of just deleting is that some pillars may respawn on reloading the game if you just remove them (monorail pillars do this for me a lot). Hiding them under the terrain somewhere across the map is a good way to fix this problem, or at least sweep it under the rug.
I also used quite a few decals to paint parts of the arch structure, most notably towards the shore ends of it. As prop color change is not currently compatible with moveit exports you will need to change the color of these decals manually, using the prop painter mod, after importing. Once more choose the marque select tool and set the filter to only decals. Drag select over the entire arch structure and setup the color to somewhat match the color of the railway trusses. The same technique can be applied to a few instances of railway catenary gantry props but this is less important for the overall aesthetics than the decal setup.
Now its just to connect the networks (Road anarchy is necessary for easy setup) and start seeing traffic across the bridge. The bridge is currently setup to carry two lanes of road traffic in each direction, metro tracks, and a pedestrian path. Feel free to modify this to match your city's specific needs. If placed at the correct elevation above water, the bridge will have enough clearance to allow the vanilla cruise and cargo ships to pass underneath it without clipping. Have lots of fun!
Area

Extra-Small

(

0.184737

km²)
Height

Steep

(

107.331635

m)
Buildings

71
Props

563
Trees

0
Segments

209
Required DLC

After Dark, Industries, Mass Transit
Base Game and DLC

Beachvolley Court Decal

(

512

uses)

Monorail Oneway Track

(

67

uses)

GravelBridgePillar

(

42

uses)

Monorail Station Track

(

42

uses)

Train Oneway Track Bridge

(

32

uses)

RailwayPowerline

(

26

uses)

Two Lane Highway Elevated

(

18

uses)

Overground Metro Bridge Pillar 01

(

12

uses)

Quay

(

12

uses)

Industry Road Small 01 Elevated

(

12

uses)

Flood Light Down Blue

(

11

uses)

Pedestrian Elevated

(

10

uses)

Light Pole Red

(

8

uses)

HighwayRampPillar

(

8

uses)

Flood Wall

(

8

uses)

Metro Track Elevated 01

(

8

uses)

Avenue Light

(

6

uses)

Wooden Footbridge Pillar 6

(

5

uses)

Pedestrian Elevated Pillar

(

4

uses)