Hauptbahnhof main station
Hauptbahnhof main station
ABR3-Hbf.xml
Download
By AmiPolizeiFunk, on 07 Mar 2021, last updated 06 Jul 2023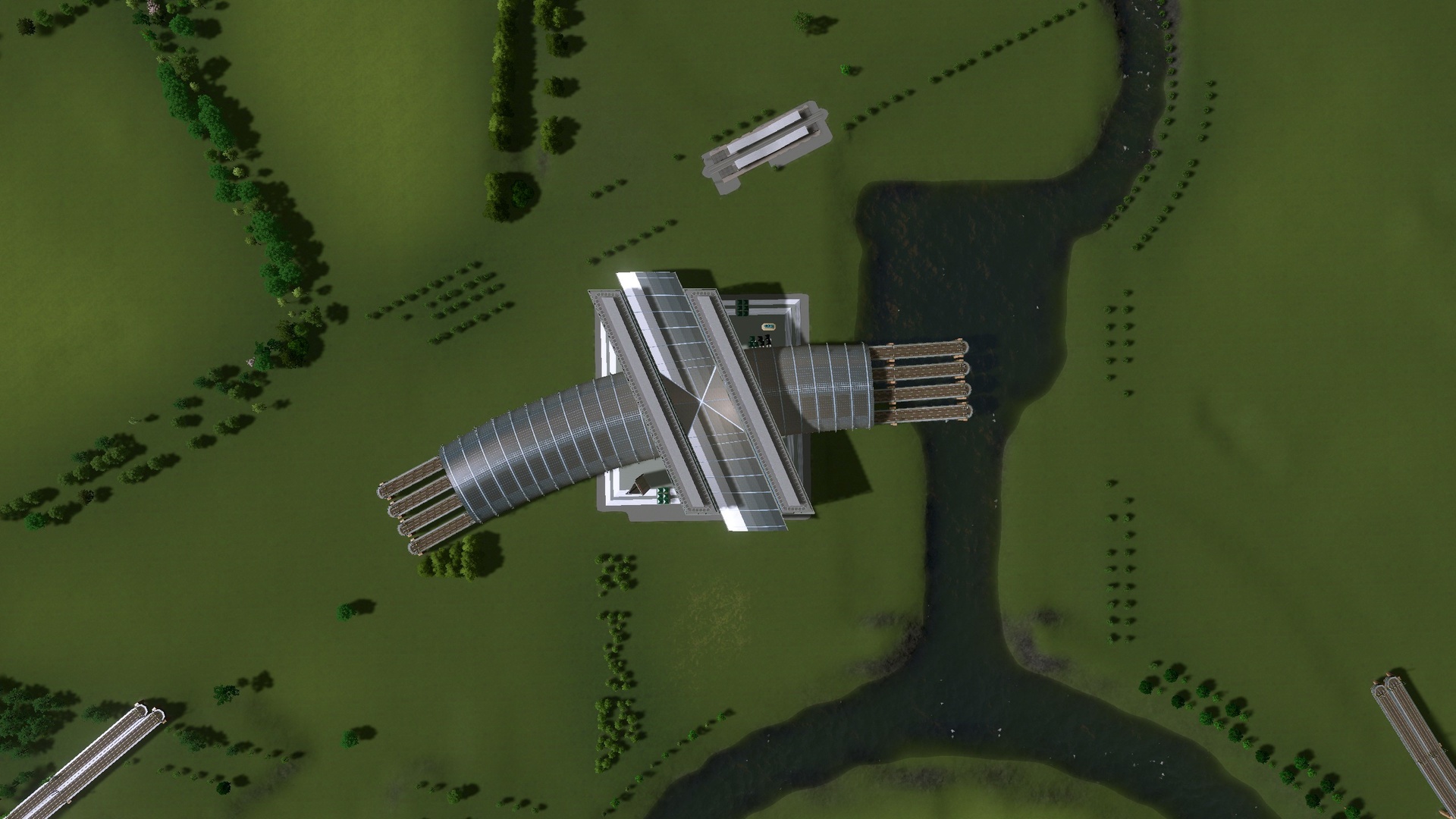 This has got to be the most challenging beast in the game to connect... it's got four curving elevated station tracks, four underground station tracks, and a metro track. Also included here is the Hauptbahnhof tram station. Try this:
Clear a large gap in the tracks that come with the map. Demolish elevated tracks as shown in the screenshot and demolish a gap in the underground tracks as well.

Restore this "Hauptbahnhof main station" build into the Berlin map. Never move it or you will break its internal connections!

Use TouchThis! mod to delete one segment from each of the station's own tracks on the left side. Also delete two segments of the station's own tracks from the right side (and yes, some of the deleted segments were inside the station and under the roof).

Restore the "Hauptbahnhof elevated tracks" build.

Connect the elevated tracks to the station with curving train track segments

Connect the underground tracks with special "Station Track Sunken" segments from the Extra Train Station Tracks (ETST) Mod. Using this sunken track prevents the connection from exposing itself above ground. 
Good luck!
Category

Ami's Berlin Restore
Area

Extra-Small

(

0.008386

km²)
Height

Gentle

(

1.408604

m)
Buildings

2
Props

0
Trees

0
Segments

0
Required Mods

Extra Train Station Tracks (ETST), Touch This!
Required Workshop Assets

tram station Berlin Hauptbahnhof

By

SvenBerlin clus

2063555734.tram station Berlin Hauptbahnhof_Data

(

1

use)

Berlin Hauptbahnhof (Berlin Central Station)

By

martinAusBerlin

948792390.Berlin Hauptbahnhof_Data

(

1

use)